If there is one prevailing direction in the electronics industry it is toward miniaturization. While Micromint manufactures a variety of board-level products, our expanding line of chips and modules is becoming more extensive all the time. The products range from a processor with ROM-resident, floating-point BASIC, a couple of full-blown data acquisition and control systems encapsulated in tiny weather-proof packages, to single chips used in tracking systems and X-10 remote control.
---
Domino


The mighty Domino packs an 80C52 processor with a full floating-point BASIC, 32-KB SRAM, 32-KB EEPROM, 12 parallel I/O bits, and a 2-channel 12-bit ADC in a 0.8-cubic-inch encapsulated package that consumes only 75 mW.
Domino is fully RS-232A, RS-422, and RS-485 compatible without extra components. Besides the two interrupts and three timers provided in the hardware, Domino is further enhanced by firmware which delivers an I2C bus, two PWM outputs, and direct period and frequency measurement.
Learn More...
---
PicStic
PicStic is a low-cost, industrial oriented controller on a 0.85-square-inch SIP (PicStics 1-3) or a DIP (PicStic4). Including options, PicStic incorporates digital inputs and outputs, analog inputs, real-time monitoring, power-input regulation, and serial communication (provided through software) in a single module. PicStics can be used independently or networked together.

The basic PicStic offers both compatibility and improved performance over the BASIC Stamp I. It comes in four versions: PS1, PS2, PS3, and PS4. The PS1, PS2, and PS3 are all pin-compatible with the Parallax BASIC Stamp I (BS1). The PicStic1 is a straight one-for-one programmable replacement for the BS1. |

Learn More...

---

Micro64/128
The Micro64/128 is an industrial-oriented controller designed around the ATmega64/128 AVR microcontrollers. It incorporates 29 digital inputs/outputs, analog inputs, real-time clock, a serial boot loader and utilities to make it easier to use the peripherals. Micro64/128 comes in a single 1.5 -cubic-inch encapsulated package that consumes roughly 275 mW.

Learn More...
---
AnswerMan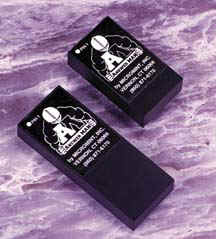 Answer MAN is a low-cost stand-alone or network-based data-acquisition and control module. As a small 0.8-cubic-inch standard 28-pin package, it can be used directly with a sensor or control device. It adds an analog/digital-to-serial data interface or supplements the control intelligence of sensors. Answer MAN provides the practical multipurpose interface between sensors and the computer.
Answer MAN communicates via serial ASCII protocol at speeds as high as 57.6 kbps. Answer MAN's simple Query or Set command language reduces costly programming. The tiny Answer MAN DIP packs together eight high-current parallel I/O lines, a 4-channel 8-bit ADC, a 2-channel 12-bit ADC, and a 2-channel 12-bit DAC (these are internal for the Answer MAN SR or external for the Answer MAN JR) along with a set of powerful firmware functions. These functions include keypad scanning, 4 x 20 LCD control, analog limit monitoring, data averaging, frequency and event counting, PWM output, and reading Dallas iButton serial numbers.

Learn More...
---
MicroBolt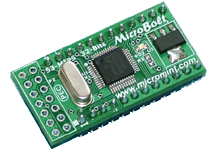 The MicroBolt is an industrial-oriented controller designed around NXP LPC2106 ARM7, 32-bit, 60 MHz, 53 Million Instructions Per Second microcontroller. It incorporates 19 digital inputs/outputs, a real-time clock, a serial boot loader, 128K Bytes of Flash and 64K Bytes of SRAM. MicroBolt is less than a cubic inch and consumes roughly 200 mW.

The MicroBolt utilizes a pair of UARTs to allow serial communication. With a 14.7456 MHz-system clock, the MicroBolt has the ability to communicate serially at baud rates up to 250Kbps. Very beneficial when time is a factor. SPI and I2C communications are also available.

Learn More...
---