Products with a Z180 core processor.
---
RTC180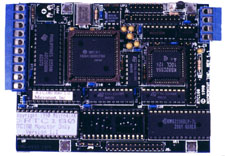 Take an advanced, new-generation microprocessor, make it completely software compatible with one of the industry's most respected microprocessors, put it in a compact, low-power package, and what do you have? You have an OEM's dream! You also have the RTC180, a member of our amazing RTC family that has an installed base of thousands.

The RTC180 uses the Zilog Z180 processor, an established favorite of application design engineers worldwide. The RTC180 provides plenty of memory with 96 KB of system memory: 32-KB SRAM and either 32-KB SRAM plus 32-KB EPROM or 64-KB EPROM, plus 128 bytes of configuration EEPROM. The RTC180's onboard I/O is impressive as well, with two serial ports (one full-duplex RS-232 and one half-duplex RS-485), 24 bits of TTL parallel I/O, and an 8-channel 8-bit ADC. The RTC180 wraps all of this power and versatility into the 3.5" x 4.5" RTC form factor.

Learn More...
---
BCC180
The BCC180 can be used to vastly improve the execution speed of existing Z80 installations or to provide a complete performance solution for new applications. Designed from the ground up for efficiency, low power, and performance, the BCC180 bridges the gap between Micromint's disk-based SB180 computer line and our BCC-bus process controller products. Using the same Z180 Z80-compatible CMOS processor as the SB180LO and using either high-level language or assembly code, the BCC180 connects to a variety of off-the-shelf BCC-bus I/O interface boards to function as a complete data acquisition and control system, or to function as a cost-effective single-board controller with abundant onboard I/O and memory.