Products with a 68HC11 core processor.
---
RTC-HC11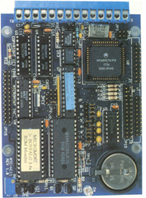 Offering exceptional value in a single-board embedded controller, our RTC-HC11 combines all of the most-asked-for features into a small 3.5" x 4.5" package at a reasonable price. Featuring the popular Motorola MC68HC11 microcontroller, the RTC-HC11 gives you an exceptional list of specifications at a very affordable price.

Software development can be done directly on the RTC-HC11 target system using assembly language or BASIC-11, an extremely fast integer BASIC interpreter with dedicated keywords for I/O port, A/D converter, timer, interrupt, and EEPROM support. In addition, a BASIC program can be saved on the onboard battery-backed static RAM or burned into an autostarting EPROM.