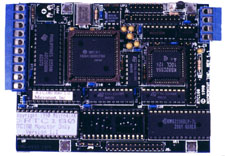 Take an advanced, new-generation microprocessor, make it completely software compatible with one of the industry's most respected microprocessors, put it in a compact, low-power package, and what do you have? You have an OEM's dream! You also have the RTC180, a member of our amazing RTC family that has an installed base of thousands.
The RTC180 uses the Zilog Z180 processor, an established favorite of application design engineers worldwide. The RTC180 provides plenty of memory with 96 KB of system memory: 32-KB SRAM and either 32-KB SRAM plus 32-KB EPROM or 64-KB EPROM, plus 128 bytes of configuration EEPROM. The RTC180's onboard I/O is impressive as well, with two serial ports (one full-duplex RS-232 and one half-duplex RS-485), 24 bits of TTL parallel I/O, and an 8-channel 8-bit ADC. The RTC180 wraps all of this power and versatility into the 3.5" x 4.5" RTC form factor.
Fully compatible with the entire line of RTC expansion I/O boards, the RTC180 keeps the power requirements simple with its +5-V-only operation. Truly a developer's dream, the RTC180 is an ideal solution for today's difficult applications.
Processor:
Z180
Clock speed:
9.216 MHz
Max Memory:
96 KB
SRAM/EPROM:
64 KB/64 KB
Digital I/O:
24 bits, PPI
Serial Ports:
1 RS-232, 1 RS-485
ADC (sample rate):
0­5 V, 8 chan., 8 bits (10k)
Timers:
2
External Interrupts:
4
Real-time Clock:
Yes, SmartWatch socket (opt.)
Size:
3.5" x 4.5"
Power (fully loaded):
+5 V at 300 mA
Dev. Software:
Optional
ROM Monitor:
Yes or BASIC-180
Industrial Temp. Available:
Yes
This email address is being protected from spambots. You need JavaScript enabled to view it. or Call for Pricing