RTC-AD12E™ Analog Expansion Board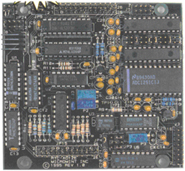 The RTC-AD12E is our newest addition to the RTC line. It is affered in 3 configurations, the EA, EB and ED versions. The EA version offers an 8-channel (4-channel differential) 12 bit analog-to-digital converter. The EB version includes the 4-channel digital-to-analog converter for the RTC bus. The ED version offers only the DAC. Perfect for those applications that involve more meticulous data collection, this peripheral board is the culmination of high performance and compact packaging. The RTC-AD12E's 12-bit-plus-sign A/D converter performs more than 20,000 conversions per second within an input range of -5V to+5V. The ADC incorporates special input overvoltage protection and input scaling which is especially useful for low-level signals or high-noise environments. Each channel is independently gain programmable for 1, 2, 4, or 8 times gain. The RTC-AD12E also has four buffered, fast-action DAC outputs. Each channel can have separate output scaling.

Click here to download the RTC-AD12E datasheet.
Features
8-channel, single or 4-channel differential input, 12-bit plus sign A/D converter, 50k sample/s
4-channel, 12-bit D/A converter. Programmable A/D input gain of 1,2,4, or 8, channel selectable
Size:
3.5" x 3.5"
Power (fully loaded):
+5 V @ 175 mA for A/D converter, bus or external ±12 V @ 40mA required for D/A converter
Industrial Temp. Available:
Yes
Call for Custom Configurations



This email address is being protected from spambots. You need JavaScript enabled to view it. or Call for Pricing