Before there were RTC and module-based controllers, there was Micromint BCC. Simply translated as Basic Computer Control, BCC offers a basic, rugged, low-cost, yet very expandable edge-card and motherboard-style system. Like the RTC, a user chooses among the processor boards and then selects among an assortment of expansion cards to create custom-tailored control solutions. Because of their ruggedness and versatility, it is no wonder that thousands of BCC systems are in use all over the world today.

BCC card cage systems can be constructed as 4-slot, 8-slot, or dual 8-slot 19" rack units. Various power supply options allow the BCC system to go virtually anywhere.
Processor Boards Expansion Boards
---
Processor Boards
---
BCC52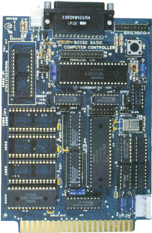 The BCC52 computer/controller is one of our hottest selling stand-alone single-board microcomputers. Its cost-effective architecture needs only a power supply and terminal to become a complete development or end-use system. Programmable in BASIC or machine language, the BCC52 uses Micromint's 80C52-BASIC CMOS microprocessor, which contains a ROM-resident, 8-KB, floating-point, BASIC-52 interpreter.
The BCC52 contains sockets for up to 48 KB of RAM/EPROM, an "intelligent" 2764/128 EPROM programmer, three parallel ports, a serial terminal port with auto baud rate selection, a serial printer port, and is bus compatible with the full line of BCC-bus expansion boards. The BCC52 bridges the gap between expensive programmable controllers and hard-to-justify, price-sensitive control applications. BASIC-52's full floating-point BASIC is fast and efficient enough for the most complicated tasks, while its cost-effective design allows it to be considered for many new areas of implementation. It can be used both for development and end-use applications.
---
BCC52CX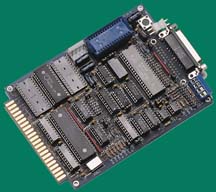 Our all-CMOS eXpanded BASIC-52 computer/controller is a stand-alone single-board microcomputer that measures 4.5" x 6.5" and takes the best features of our original BCC52 and adds attributes like RS-485 communication, more memory, and total CMOS operation in the same-size package. Like the BCC52, the BCC52CX uses Micromint's 80C52-BASIC 8-bit CMOS microprocessor. It needs only a power supply and terminal to become a complete system a power supply and terminal to become a complete system programmable in BASIC or machine language.
Allowing use of 32K x 8-bit memory chips, the BCC52CX has sockets for 64 KB of RAM and 64 KB of EPROM. An onboard "intelligent" 27C256 programmer uses standard and fast programming algorithms. Console serial support can be directed to RS-232 or RS-485 drivers. An auxiliary RS-232 serial output port supports serial printer output, and three 8-bit TTL bidirectional parallel ports are available through an on-board PPI. The BCC52CX is Micromint BCC-bus-compatible, allowing all of the BCC-bus peripheral boards to be used with BCC52CX.
---
BCC180
The BCC180 can be used to vastly improve the execution speed of existing Z80 installations or to provide a complete performance solution for new applications. Designed from the ground up for efficiency, low power, and performance, the BCC180 bridges the gap between Micromint's disk-based SB180 computer line and our BCC-bus process controller products. Using the same Z180 Z80-compatible CMOS processor as the SB180LO and using either high-level language or assembly code, the BCC180 connects to a variety of off-the-shelf BCC-bus I/O interface boards to function as a complete data acquisition and control system, or to function as a cost-effective single-board controller with abundant onboard I/O and memory.
---
Processor Boards Expansion Boards
---
Expansion Boards
---
BCC30A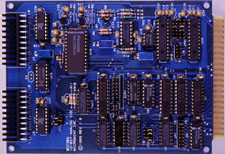 The BCC30A 12-bit-plus-sign analog-to-digital converter board is a 16 channel high-speed unit designed for use with all BCC-bus computer/designed for use with all BCC-bus computer/controllers. The BCC30A monitors up to 16 single-ended (or 8 differential) signals in a bipolar range of –5 to +5V or 16 single-ended signals in a unipolar range of 0 to +5 V. The BCC30A A/D converter board is easily accessible from BASIC, Forth, or assembly language and multiple boards can be used in a single system. Channels are individually addressable and can be converted at up to 20,000 samples per second. The high-speed ADC is unique in that its 16 channels (8 channels differential) have individually programmable input gains. Using gain multiplication on low-level signals provides the performance of a 16-bit ADC at a 12-bit price. The BCC30A also has 4 channels of high-performance, wide-range-output DAC.
---
BCC40D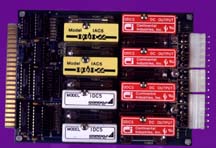 The BCC40D uses industry-standard Opto-22 or Gordos-type optoisolated I/O modules to provide on/off control and input monitoring of eight 115-230-VAC or 5-48-VDC devices. Multiple BCC40D boards can be used together in a single system. Individual channels can be read or updated by reading from or writing to a single I/O address. The BCC40D can be directly controlled from BASIC or assembly language and is as simple to use as setting or reading a parallel port. Each optoisolated channel is fused and has quick-disconnect terminals (screw terminals optional in OEM quantities). Both input or output modules and AC or DC functions can be intermixed on the same BCC40D board.
---
BCC40R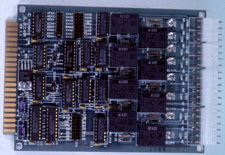 Using efficient mechanical relays, the BCC40R provides contact-closure on/off control of eight AC-or DC-powered devices for data acquisition and control applications. The relays are controlled by writing to a board-specific I/O address and can be controlled either as a set of eight relays at a single I/O address or individual relays at eight separate I/O addresses. Four of the relays have single-pole, double-throw (SPDT) output connections and four relays have single-pole, single-throw (SPST) output connections.
---