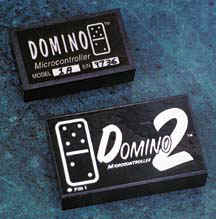 The mighty Domino packs an 80C52 processor with a full floating-point BASIC, 32-KB SRAM, 32-KB EEPROM, 12 parallel I/O bits, and a 2-channel 12-bit ADC in a 0.8-cubic-inch encapsulated package that consumes only 75 mW.
Domino is fully RS-232A, RS-422, and RS-485 compatible without extra components. Besides the two interrupts and three timers provided in the hardware, Domino is further enhanced by firmware which delivers an I2C bus, two PWM outputs, and direct period and frequency measurement.
Domino 2 has all the features of a Domino 1 plus an I/O coprocessor which adds 16 more bits of high-current parallel I/O, a hardware clock/calendar, wide-range power operation, and a hardware PWM output.
Dominos can be programmed directly from a serial terminal without special development tools. They can be programmed in either BASIC, a mixture of BASIC and assembly language, or mostly assembly language with just an initial BASIC CALL statement. Programs are initially developed in RAM and then transferred to the EEPROM for autostarting and permanent storage.
| | | |
| --- | --- | --- |
| | Domino 1 | Domino 2 |
| Datasheets | | |
Development Board
The Domino 1 and Domino 2 Development Board takes the Domino 1 and Domino 2 I/O pins and expands them out to solder pads and headers for ease of connection when developing. It also connects the UART to RS-232 drivers or directly to screw terminals for RS-422 or RS-485 communication. The RS-232 driver is connected to a DB9 connector. This board also includes a prototyping area so the user can add on external circuitry. There is an onboard voltage regulator for powering the Domino 1 and Domino 2 and additional circuitry. The Domino 1/1A/2/2A development system comes complete with a Domino 1, Domino 1A, Domino 2, or Domino 2A, a Development Board, power supply, Domino Utilities, Host 52 and BASIC 52